If you've visited our Regent's Wharf Head Office recently, you may have noticed posters around the building promoting Richard Harris' fundraising appeal to support first aid efforts in Ukraine. Or, you may have spotted our LinkedIn post encouraging people to donate to this fantastic cause.
To recap, Richard was fundraising to provide as many Red Cross first aid boxes to the Ukraine war effort as possible. Not only was he aiming to purchase these kits, he also had his sights set on delivering them to the Poland/Ukraine border, by hand! We can now announce that through his efforts, Richard managed to raise a total of £14.7k through a combination of cash and first aid kit donations.
This wasn't Richard's first trip of this nature. Back in March, he and a friend managed to raise £10k meaning 250 kits were able to be delivered to the border. Seeing the desperate need for more supplies, Richard set about planning the next trip as soon as he could.
Taken from his JustGiving page, Richard commented that: "As some of you are aware, there was a trip to the Poland/Ukraine border last month, delivering First Aid kits that were subsequently deployed to the front lines within 12 hours…The Ukrainians continue to stand and defend their families, their country, their future, and their right to make their own decisions. They continue to put up the bravest of fights in the face of overwhelming enemy force. Unfortunately, the need for vital supplies such as First Aid kits is as significant now as in the early days of Russia's invasion".
On the morning of Thursday 5th May, Richard set off for Poland with his van loaded with supplies. 50 hours of driving, 4,235 miles, and 350 first aid kits later, and we're pleased to report that Richard successfully completed his trip!
Gratte Brothers donated 20 first aid kits and provided a van at the last minute when the original delivery vehicle was not available. Richard described it as "a really humbling experience" and was delighted to have raised a total of £14,700 for this appeal!
People often rate the staff at Gratte Brothers as being one of the best things about the company. This self-driven initiative from Richard (who is Gratte Brothers Limited's Labour Manager) is a shining example of why that statement is so true. Well done, Richard!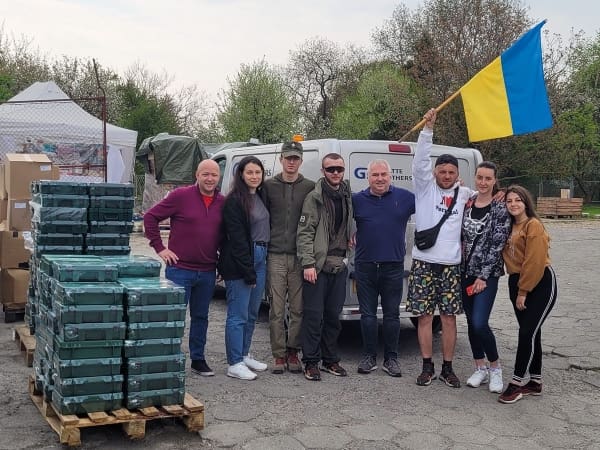 Richard Harris with the Ukrainian Logistics Team in Poland.